The saboteur ordinarily commits his postures on the fortress during the late game. It can be seen as the revenge of some rejected survivors. Or their ideas.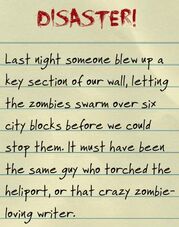 Now and again he publishes an easy warning, tears down a part of the fence and the fort losses one square due to his sabotage. If this happens, he will be named directly.
But mostly there are 6 blocks taken away, connected to each other. The suppositions in the scripted event "Disaster!" give a wink on which people had collaborated here.
Potential Saboteurs
Edit
Actually, there are TWO saboteurs working together, of these four
- The guy who you didn't "interrogate" about destroying the helicopter (Yes, he did it!)
- A member of the Last Judgement Gang (if you have rescued Northway but didn't defeat them)
- The writer from "Zombies are people too" if you don't let him/her have a church
- Dr. Bryukhonenko if you don't let him take over a lab
Ad blocker interference detected!
Wikia is a free-to-use site that makes money from advertising. We have a modified experience for viewers using ad blockers

Wikia is not accessible if you've made further modifications. Remove the custom ad blocker rule(s) and the page will load as expected.