Welcome to the Unofficial Rebuild Wiki
Edit
Welcome to the Unofficial Rebuild Wiki. Rebuild is a popular post-apocalyptic game developed by Sarah Northway. The wiki will describe the Game Mechanics, Location/Map sizes, Opponents, NPC's etc.
The game can be played on different kinds/types of browsers
You are welcome to contribute as much as you want but please be sure that its not false information (We don't want to lie), also please be sure that you are registered before editing.
Here is the full story of Rebuild I & II (III Will be shown soon). We do not claim this as ours, all credits of this to the developer and the team...
Rebuild I
Edit
It all started in Holland
The media called it "Dutch Flu" ,and connected it to some kind of weird tulip eating cult. The Netherlands used to export a quarter of the world's tomatoes and cucumbers, but that wasn't all. They were exporting the undead. Armaggedon
During the first year, survivors banded together to fend of the zombies, always staying at their move and not looking back. But we're not going to run anymore. Were putting our feet down here and we're going to reclaim this place in the name of humanity. Today... We begin to REBUILD! -- And then it was down to us.
- Official Rebuild I Story
Rebuild II
Edit
January 17th, 2014
My name is [ ], and I maybe the last [ ] alive.
I've been on the move for so long, running from those things, -- those monsters that used to be humans. They were bakers, programmers, teachers, neighbors. Now they sniff the air like wolves and their dead eyes watch endlessly of the movement of their pray. Me
I'm down to a few supplies and my trusty [ ]; I'm so tired, but I have to get to the city before before nightfall
I'm not alone! I finally made it to [ ] , and was so excited to find other people that I almost got myself killed on the way to their fort. They've walled-off four blocks of this [ ] city, but they don't know what to do next. I've decided to join up with them, to lead them, to put my feet down here and stop running.
Featured Article
Edit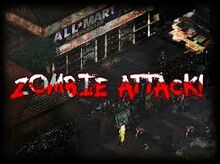 Horde attack is an A.I. that happens frequently. The horde is a group of combined zombies/infected. It is easy to eliminate/defend against hordes when your survivors are skilled, if survivors are not skilled and without duties, there should be at least 4 - 7 defending the fort. They form hordes in the range where you can't find or eliminate them. When a horde reaches closer to the fort a report will be shown saying that the battle will happen on midnight, hordes can stop or take over a building being reclaimed, built or defended. Amount of zombies that are combined in the group are shown down in the right side. They are spotted and tracked with the Caution Sign, when one is made a caution sign appears where the horde is already, making it easy to prepare against it.---- It can't be neutralized when it isn't attacking the fort, you can never neutralize them like normal option of killing zombies in a building. Once a survivor nearby a horde is working on a task their is a high chance as 90% that it can die, be unable to finish the given task. Horde attacks are dangerous as they can overwhelm a building if few survivors are only guarding/defending the fort.
For More information at Zombie Horde : Visit Horde attack
Latest Activities
Edit
Check out the our latest activity!
Ad blocker interference detected!
Wikia is a free-to-use site that makes money from advertising. We have a modified experience for viewers using ad blockers

Wikia is not accessible if you've made further modifications. Remove the custom ad blocker rule(s) and the page will load as expected.