<--- Return to main page 

Rebuild 2
Edit
Rebuild 2 was originally posted on Armorgames at 6th October 2011, soon after negotiating with a sponsor. Like in his predecessor, the aim of this turn-to-turn strategical game is to build up a city in a post apocalyptic environment, where a virus known as "Zombieism" spreads.
Up to date, it has generated more than 11,800,000 gameplays on Kongregate and Armorgames alone.
Soon after the release of the Browser game a steam-release had followed. It was simply named "Rebuild" and it can be considered as the complete and final version.
The Developers
Edit
After the well received first part, Sarah decided to collaborate with other artists for the sequel. She made some online-requests where she was looking for a paid artist to work with. The aim was to replace the androgynous stickmen from the first part..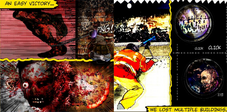 She finally had teamed up with
EvilKris
as a graphic artist, who formerly created the point and click horror games
Insanity
and
Insanity 2
.
Besides the movie scenes he made the graphics about survivors and weapons as well as the paintings after horde attack. Because of his art, the second part had the most realistic look of the franchise and much more gore graphic in it. Whether this change is being liked or not, but it is certain that he gave Rebuild 2 his unique style.
The soundtrack to Rebuild 2 is made by
Billy Gould
(Faith No More) and
Jared Blum
. It is published on their sole album
the Talking Book
While visiting a concert where they played as the opener, Sarah felt that it fitted perfectly as a soundtrack for her upcoming sequel. Later on, she contacted them to license a few of their songs.
Plot                                                                                                       
Edit
The Game starts off with the Charakter selection. It is the point where the protagonist (and first leader) is created. The Character select is written like a journal entry.
The player can
name
the leader and choose his
gender
. The players appearance is shown by a randomly generated face for the character. A new one will be chosen by clicking at the picture.
The player also chooses a first "Trusty Object" which he can use during the game. He chooses between a dog, a wrench, a cowboy hat, a pistol and a pair of binoculars.  
The following page of the character select allows you to name the city. He can choose between different map sizes and general difficulty level.
In mobile version, the second page slightly differs and you can change the season as well.
Gameplay
Edit
As the protagonist within the destroyed city left by mankind to flesh-eating zombies, you have set up a small refugee site with other survivors you will find throughout the city.
You must retake back the city building by building to achieve the goal for humans right. Fight against the undead hordes known by the survivors as "Zeds", the merciless survivor group named The Last Judgement Gang, food shortage and even among your own survivors, who try to betray your group.
Though there are many new features to deal with, the game itself can be considered as less difficult than the first part.
Characters & NPCs
Edit
Survivor (Civilian) - are in general friendly humans. They are the ones who defend the fort and attack opponents. Each one has his own skills. Though in order for them to stay with you, you need to have a space for them to stay and to heal because they can suffer different types of diseases.
The Last Judgement Gang (Opponent/Cult) - They are known as human enemies, they praise the dead as a punishment to the bad ones they say. They raid your fort randomly for no reason, which sometimes they abduct female survivors and never return them, but mostly steals food and tools. They use women as slaves, as reported by escaped Last Judgement Gang slaves.
The Riffs (Friendly Group) - is a large group known to show up nearby the fort to have a show down for survivors in the fort to see. They are the friendly ones, they can help eliminate the cult named "The Last Judgement Gang". They eliminate zombies randomly around the map, but only ones nearby the fort.
Zombies (Infected) - are the main enemy protagonist that you will find every where on the map. Not reclaimed buildings are stocked with zombies. They can appear in large groups, you will when you get a report about a horde closing up the fort. They can be killed if they are only small amounts of them, if they go in with large groups it can cause intense problems like someone being bitten or a building gets overwhelmed by them.
Reception
Edit
Both versions have been very well-recieved in reviews.

As of June 11th, 2017 it has a rating of 92 out of 100 on Armorgames and it is ranked at #4 on the highest rated games tagged with city .
Kongregate users gave a rating of 4.35 out of 5 and it is ranked at #44 of the highest rated games of all time.
See also :
Edit
http://rebuildgame.com/info_mobile.html
links
Ad blocker interference detected!
Wikia is a free-to-use site that makes money from advertising. We have a modified experience for viewers using ad blockers

Wikia is not accessible if you've made further modifications. Remove the custom ad blocker rule(s) and the page will load as expected.