<--- Return to main page

The
Heliport
is a helicopter landing site within the city. As it could be the last place which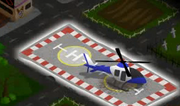 people trying to make their escape to other place,The reason it is overrun by zombies is because whenever there is a possible ending on the block your trying to capture its always a horde tile later into the game.
Like all special ending buildings it is overrun with 100 zombies, but they do not contribute to the total number of zombies around your walls, making it actually a safe building to be adjacent to. One way to win the game is to capture the Heliport, repair the helicopter and fly away from the city. You can train 5 people to max on everything then send them away to a new city. This allows you to start much easier and much faster.


Ad blocker interference detected!
Wikia is a free-to-use site that makes money from advertising. We have a modified experience for viewers using ad blockers

Wikia is not accessible if you've made further modifications. Remove the custom ad blocker rule(s) and the page will load as expected.