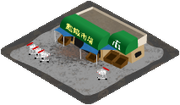 Groceries are buildings that have no use after obtaining, but can be replaced. They have some food or lotsa food stored in them and rarely survivers.
Building Description:
"We've scraped every bit of food out of here, there's nothing left."
Replacement
Edit
You can replace Groceries with Apartment, Laboratory, School, Hospital or Bar.
None
Ad blocker interference detected!
Wikia is a free-to-use site that makes money from advertising. We have a modified experience for viewers using ad blockers

Wikia is not accessible if you've made further modifications. Remove the custom ad blocker rule(s) and the page will load as expected.